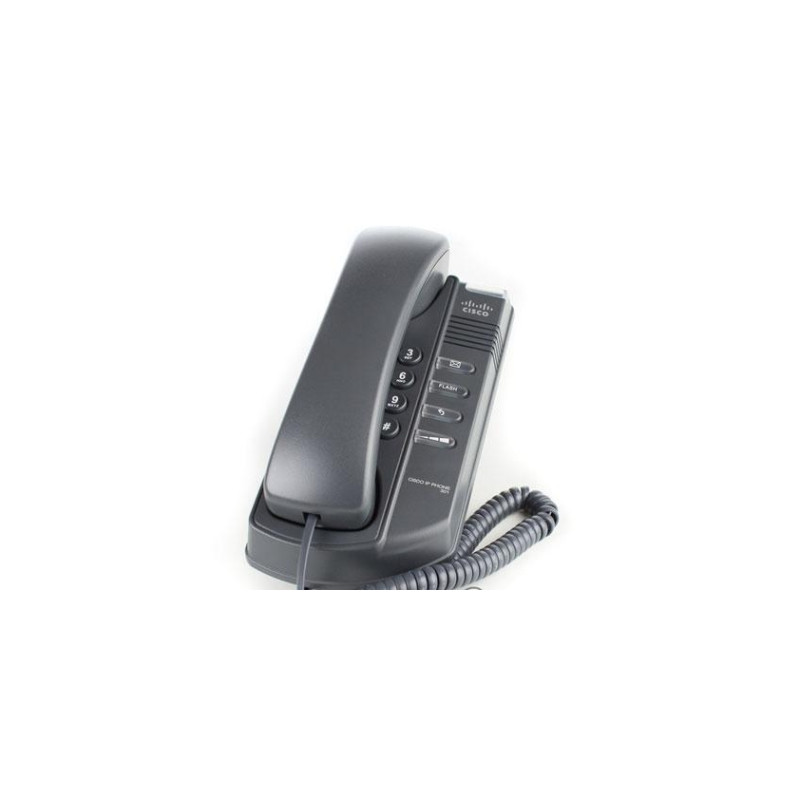  
Cisco SPA301
SPA301 VoIP SIP and SPCP telephone, 1 x Fast Ethernet, 1 x line, AC power supply included
VoIP SIP and SPCP (Smart Phone Control Protocol, compatible with Cisco Unified Communications 500 Series) Telephone with 1 x LAN - 1 Line, no display, no headset jack, no speakerphone (AC Adapter included, AC only, no PoE support)
• Basic 1-line business-class IP phone
• Connects directly to an Internet telephone service provider or to an IP private branch exchange (PBX)
• Easy installation and secure remote provisioning, as well as web-based configuration
• Supports both Session Initiation Protocol (SIP) and Smart Phone Control Protocol (SPCP) with the Cisco® Unified Communications 500 Series
Comprehensive Interoperability and SIP-Based Feature Set
Based on SIP, the Cisco SPA 301 1-Line IP Phone has been tested to help ensure comprehensive interoperability with equipment from voice over IP (VoIP) infrastructure leaders, enabling service providers to quickly roll out competitive, feature-rich services to their customers.
With hundreds of features and configurable service parameters, the Cisco SPA 301 addresses the requirements of traditional business users while building on the advantages of IP telephony. Features such as easy station moves and shared line appearance (across local and geographically dispersed locations) are just some of the many advantages of the SPA 301.
Carrier-Grade Security, Provisioning, and Management
The Cisco SPA 301 uses standard encryption protocols to perform highly secure remote provisioning and unobtrusive in-service software upgrades. Remote provisioning tools include detailed performance measurement and troubleshooting features, enabling network providers to deliver high-quality support to their subscribers. Remote provisioning also saves service providers the time and expense of managing, preloading, and reconfiguring customer premises equipment.
Telephony Features
• One voice line
• Music on hold*
• Call waiting
• Outbound caller ID blocking**
• Call transfer: attended and blind** ( SIP Only )
• Three-way call conferencing with local mixing
• Multiparty conferencing via external conference bridge
• Automatic redial of last calling and last called numbers
• Call pickup: selective and group*
• Call swap
• Call back on busy**
• Call blocking: anonymous and selective**
• Call forwarding: unconditional, no answer, and on busy**
• Hot line and warm line automatic calling
• Digits dialed with number auto-completion
• Anonymous caller blocking**
• Support for Uniform Resource Identifier (URI) (IP) dialing (vanity numbers)
• Multiple ring tones with selectable ring tone per line
• Call duration and start time stored in call logs in web GUI
• Distinctive ringing based on calling and called number
• 10 user-downloadable ring tones
• Speed dialing, eight entries
• Configurable dial/numbering plan support
• Intercom*
• Group paging
• Network Address Translation (NAT) Traversal, including Serial Tunnel (STUN) support
• DNS SRV and multiple A records for proxy lookup and proxy redundancy
• Syslog, debug, report generation, and event logging
• Support for highly secure encrypted voice communications
• Built-in web server for administration and configuration, with multiple security levels
• Automated remote provisioning, multiple methods; up to 256 bit encryption (HTTP, HTTPS,
Trivial File Transfer Protocol [TFTP])
• Option to require administrator password to reset unit to factory defaults

**Feature requires support by call server.
**Feature activated via feature code
Hardware Features
• Voicemail message waiting indicator light
• Voicemail message retrieval button
• Volume control
• Redial Button
• Flash Button
• Standard 12-button dialing pad
• High-quality handset
• One Ethernet WAN port 10/100BASE-T RJ-45
• 5 VDC universal (100-240V) switching power adaptor included
Regulatory Compliance
• FCC (Part 15, Class B) ,UL, CE Mark, A-Tick
Security Features
• Password-protected system, preset to factory defaults
• Password-protected access to administrator and user-level features
• HTTPS with factory-installed client certificate
• HTTP digest: encrypted authentication via MD5 (RFC 1321)
• Up to 256-bit Advanced Encryption Standard (AES) encryption
Documentation
• Quick-start installation and configuration guide
• User guide
• Administration guide
• Provisioning guide (for service providers only)
Package Contents
• Cisco SPA 301 IP phone, handset
• Handset cord
• RJ-45 Ethernet cable
• Power adapter
• Quick installation guide
• CD
Data sheet
Lines

1

Ports

WAN

Conference

3 way
Yes

Power

AC Adapter Included
PoE Required

Provisioning

Http
Https
Tftp

Codecs

G.711 (alaw)
G.711 (ulaw)
G.722
G.729ab

Networking

VLAN 802.1Q